OFFERING COVID-19 HELP IN
NORTHERN NEVADA FOR FREE.
Northern Nevada Legal Aid continues to provide legal aid services during these unprecedented times. In compliance with Governor Sisolak's directives and CDC guidelines we are not taking walk-ins at this time. In-person appointments may be available. To access services during normal business hours, which are Monday through Friday from 9:00 a.m. to 5 p.m., call (775) 329-2727.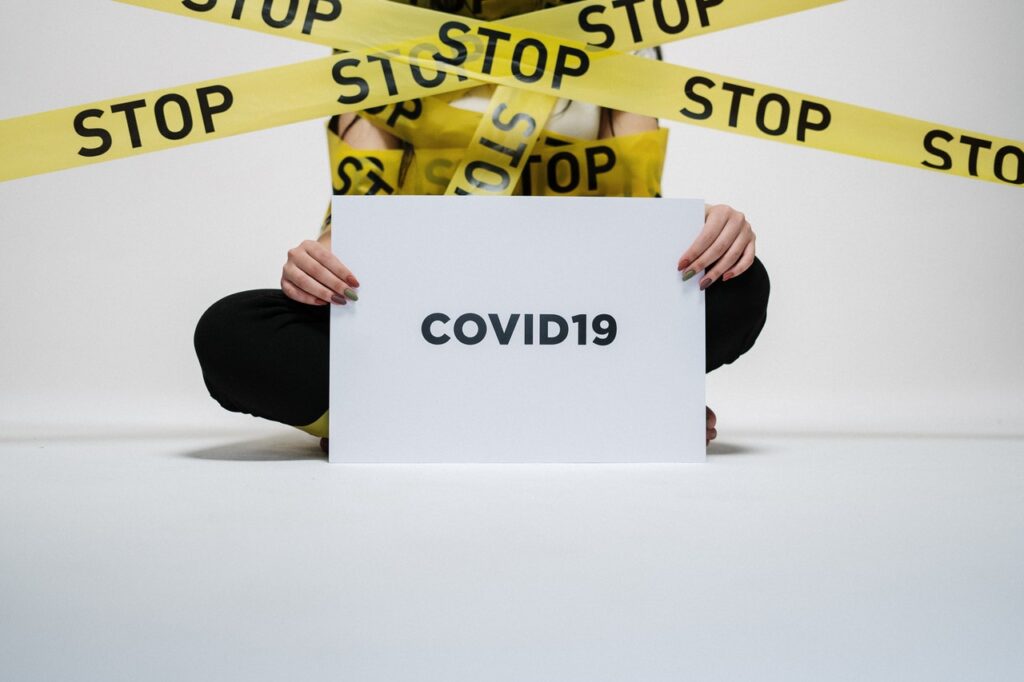 Covid-19 Useful Resources
For help with Landlord/Tenant & Evictions/Lockouts or Consumer issues call (775) 329-2727 or email intakeuser@washoelegalservices.org.
Our Self-Help Center is open on a limited basis – phone appointments only until further notice. Call (775) 329-2727 or email intakeuser@washoelegalservices.org to request assistance and/or an appointment.
If you have lost your job please contact the State of Nevada – DETR at (775) 823-8100. Applying for unemployment is done online at detr.nv.gov.
Helpful Information and Updates:
COVID-19 Rental Assistance:
Nevada Can: Nevada COVID-19 Aging Network:
Nevada's Aging and Disability Services Division (ADSD) has launched a new website to offer a single point of entry where elders and caregivers can request help in specific areas of need.   Check out the website and learn more.
"This resource will allow us to connect early with Nevada's seniors to ensure those that are home bound have access to the support they need. Kudos to our partners statewide for prioritizing this effort," said Richard Whitley, Director of the Department of Health and Human Services. 
They offer phone, text, and chat services. The webpage includes reporting abuse, neglect and disaster services as well as an option to request assistance.
Feel free to share the website with others.
For an informational presentation and access services on NV CAN outreach, view these materials:
Free Financial Navigator Services Introduced in Wake of COVID-19 Economic Upheaval
Reno, Nev. (May 4, 2020) – In response to the economic uncertainty caused by COVID-19, Opportunity Alliance Nevada (OANV) has launched free Volunteer Financial Navigator services to help Nevadans better understand their financial options. Advice is available for people stressed about their finances, perhaps unsure about being able to pay their rent or mortgage and other bills, and not knowing what resources are available to them.
This one-on-one, virtual support service, which is the first of its kind in Nevada, uses trained volunteers who will discuss finances with callers and advise them on potentially difficult decisions.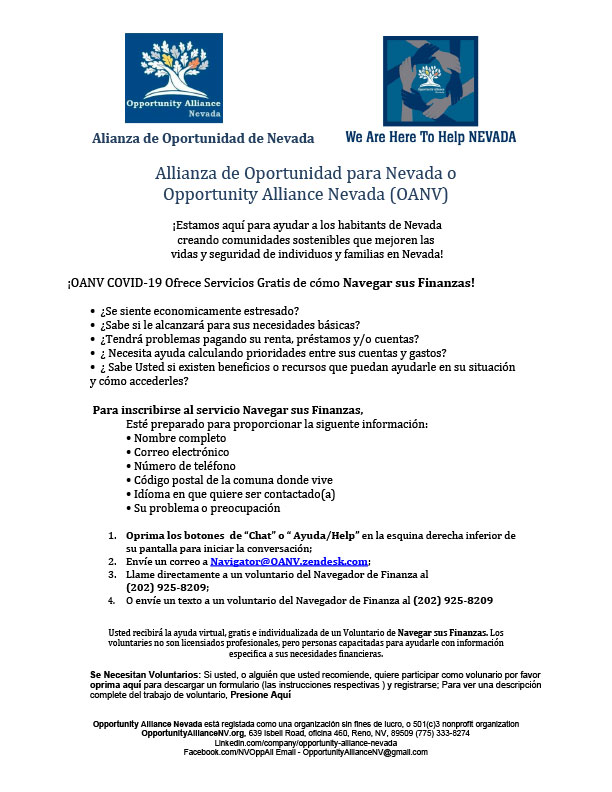 A Message from Nevada Senator Cortez Masto
Fellow Nevadans,
I know many of you have been impacted by the coronavirus pandemic and the difficult, yet necessary measures taken to close businesses in the Silver State. Many of our friends and families have lost wages, their job or are struggling in other ways because of the coronavirus pandemic. Right now, you or others you know may be struggling with finding out how to cover their mortgage or rental payment. If you're facing financial hardship and don't know where to turn, I've put together a COVID-19 Disaster Resource Guide with helpful information for homeowners seeking relief.
The Coronavirus Aid, Relief, and Economic Security Act, which was passed by Congress a few weeks ago, made a number of changes to protect families from eviction and foreclosure. In Nevada, Governor Sisolak announced a statewide moratorium on evictions, and Attorney General Aaron Ford announced that his office is providing $2 million in settlement funds to United Way of Southern Nevada and United Way of Northern Nevada for their emergency food and shelter programs. In the Senate, I've also cosponsored a bill to create a new $75 billion Housing Assistance Fund to help households struggling to make ends meet.
The federal government also issued guidance halting all evictions and foreclosures for homeowners whose mortgages are insured or guaranteed by the federal government. This includes those held by the Federal Housing Administration (FHA), the Department of Housing and Urban Development (HUD), the United States Department of Agriculture, the Department of Veterans Affairs, the Federal Housing Finance Administration (FHFA), Fannie Mae, Freddie Mac and the Section 184 Indian Home Loan Guarantee Program. Some private mortgage lenders, such as Bank of America, Chase and Wells Fargo, are also offering relief like payment forbearance upon request. Read my housing frequently asked questions document to find out if you qualify for housing relief.
If you can't make your full monthly payment, contact your mortgage servicer online, in writing or over the phone. When requesting forbearance, keep in mind that you may receive a quicker response online or by mail, and that you don't need to prove that you lost your income to qualify. You can consider home refinancing or pursue a loan modification that changes the terms of your home loan. Lenders should not require a lump sum payment at the end of the forbearance period: borrowers with loans guaranteed by Fannie Mae and Freddie Mac are not required to pay all the missed payments at the end of the forbearance period. If the hardship has been resolved, the servicer should work with the borrower to set up a repayment plan, modify the loan so the borrower's payments are added to the end of the mortgage, or set up a modification that reduces the borrower's monthly mortgage payment.
Here are a few agencies and organizations across the state that provide mortgage counseling to help homeowners make the right choice for them and their families:
Money Market International  
(866) 232–9080
https://www.moneymanagement.org Opportunity Alliance Nevada
(775) 333-8274
https://www.opportunityalliancenv.org/contact-us/ Neighborhood Housing Services of Southern Nevada
(702) 649–0998
http://nwsn.org/
Nevadans concerned about being able to pay rent can work with their landlord or management company to see what options are available. Many landlords are working with tenants on rent payment flexibility during the shutdown. To qualify for rental assistance, you may need a letter of nonpayment from your landlord. For assistance in paying your rent, contact the U.S. Department of Housing and Urban Development at https://www.hud.gov/states/nevada/renting or https://www.hud.gov/states/nevada/renting/otherprgms. If you need legal assistance with eviction issues, legal aid providers are available on a sliding scale so that you pay what you can afford.
As state, local, and federal governments work to make more assistance available, my office is regularly updating my COVID-19 Disaster Resource Guide and sharing new information on my website – so make sure to visit www.cortezmasto.senate.gov. If you have any questions or need help navigating a federal housing agency, you can also reach out to my office through my website or by calling one of my offices in Nevada or Washington, D.C. I am here to help.
Sincerely,
Catherine Cortez Masto
Further, the staff at Northern Nevada Legal Aid is a neutral party. Therefore we do not:
Provide legal advice, offer free legal counsel, or recommend attorneys

Provide personal opinions on legal matters

Complete legal forms

Predict judgments

Offer attorney-client privilege or confidentiality
We continually update our website. However, we make no guarantees regarding the accuracy of the information wherein. Northern Nevada Legal Aid is not responsible for the consequences resulting from using the information on this website. We recommend you verify all legal information with a licensed Nevada attorney.